Charities
This event is a capstone on the Tuck calendar, providing a fun way for students to give back to their community by supporting local non-profits focusing on children's health issues. The proceeds from the run go to three charities in New Hampshire's Upper Valley: David's House, Children's Hospital at Dartmouth (CHaD) Child Life Program and Child and Family Services - Upper Valley.

David's House. Our mission is to provide home-away-from-home and support for families with children receiving treatment through the Children's Hospital at Dartmouth Hitchcock Medical Center.
David's House is named for David Cyr, a young boy who spent many months at Dartmouth-Hitchcock during his three-and-a-half-year battle with leukemia. While David's parents lived close enough to the medical center to be with him every day, they met many parents who slept in their cars or in chairs in their child's hospital room, unable to afford any length of stay at a nearby hotel and unwilling to leave their child's side. Likewise, each time David was discharged, he begged his parents to take the other kids in the pediatric departments with them to their safe, comfortable home in nearby Vermont.
David passed away at age five in 1984, and within a week, his family and friends had already begun fundraising. By January of 1986, David's House opened its doors.
Today, David's House provides a home-like atmosphere where families can stay close and give each other support while their children are under their doctors' care, frequently for cases of serious, chronic medical conditions and injuries. While David's House has a close working relationship with Dartmouth-Hitchcock Medical Center, it is independently funded, and because of generous community support, no families are ever charged any fees. David's House has 20 bedrooms and also welcomes day guests. Since opening, David's House has been home to nearly 13,000 families from 42 US states and 25 foreign countries. For more information visit www.davids-house.org.
Children's Hospital at Dartmouth-Hitchcock (CHaD) is New Hampshire's only comprehensive, full-service children's hospital, providing an extended system of care that offers advanced pediatric services across the region.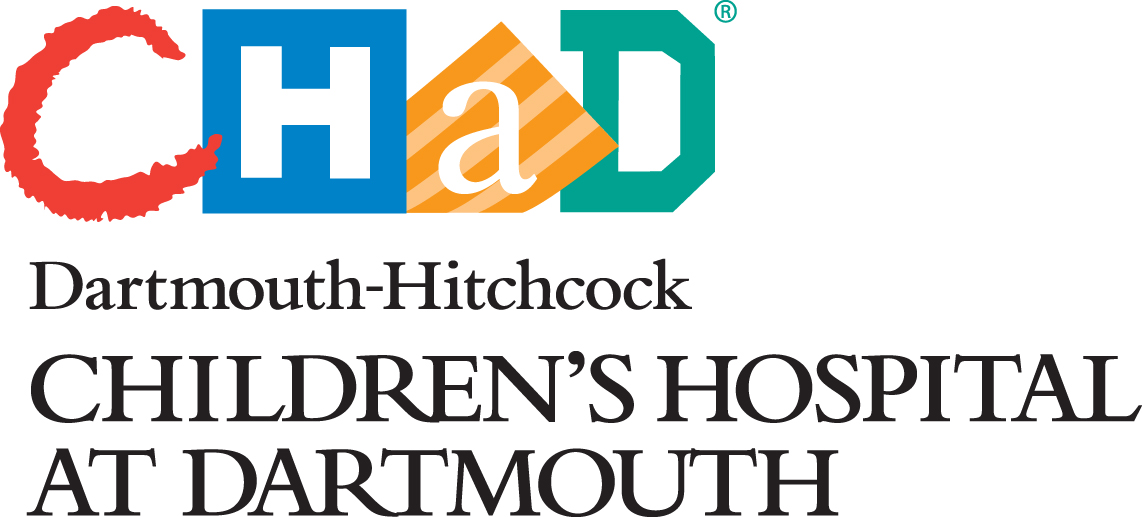 CHaD was recognized in 1992 as a "children's hospital within a hospital" by the Children's Hospital Association. CHaD is one of 205 children's hospitals in the United States providing care specifically focused on children. CHaD Kids are the more than 60,000 patients per year who receive care at one of our 14 locations across Vermont and New Hampshire.
Proceeds from the Tuck Run for the Kids help us imagine healthier futures for CHaD kids by supporting the Child Life Program at CHaD. Child Life is designed to promote development in children, adolescents, and their families, and to minimize the psychological trauma of hospitalization. The program provides developmental stimulation, support during stressful times, and advocacy for the children's emotional and psychological needs. Our goal is to help children and their families acclimate to the healthcare environment and to understand and manage challenging and stressful situations. There are six full-time certified child life specialists (CCLS) in the Child Life Program at DHMC in Lebanon, and one CCLS at Dartmouth-Hitchcock Manchester. Each CCLS specializes in a different area, while also providing collaborative and consultative services throughout CHaD, DHMC, and Dartmouth-Hitchcock Manchester.

Child and Family Services - Upper Valley. Child and Family Services (CFS) is a statewide, private, nonprofit organization dedicated to advancing the well-being of children by providing an array of social services to strengthen family life and by promoting community commitment to the needs of children.
For over 158 years, CFS has been responsive to community needs through its work in school, community and home settings, currently serving over 17,000 individuals a year throughout New Hampshire and eastern Vermont. CFS services include child abuse prevention, intervention and treatment; family, individual and couples counseling; adoption; child advocacy; teen risk prevention programs; home-based parenting and family life education; crisis care for at-risk youth; school-based social work; foster care services and summer camp for disadvantaged youth. CFS is unwavering in its dedication to protecting children, preserving families and enriching communities. No one is denied services due to an inability to pay. Accredited by the Council on Accreditation of Children and Family Services, CFS is a founding member of the Child Welfare League of America.