Who is John Barleycorn?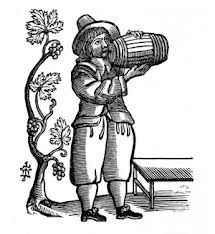 JOHN BAR-LEY-CORN
The Legend
John Barleycorn is an ancient folksong from Britain. The character "John Barleycorn" in the song is a personification of the important cereal grain crop barley, and of the alcoholic beverages made from it, beer and whisky.
A version of the song is included in the Bannatyne Manuscript of 1568, and English broadside versions from the 17th century are common. Robert Burns published his own version in 1782, and modern versions abound.
There were three men came out of the west, their fortunes for to try
And these three men made a solemn vow
John Barleycorn must die
They've plowed, they've sown, they've harrowed him in
Threw clods upon his head
And these three men made a solemn vow
John Barleycorn was dead

They've let him lie for a very long time, 'til the rains from heaven did fall
And little Sir John sprung up his head and so amazed them all
They've let him stand 'til Midsummer's Day 'til he looked both pale and wan
And little Sir John's grown a long long beard and so become a man
They've hired men with their scythes so sharp to cut him off at the knee
They've rolled him and tied him by the way, serving him most barbarously
They've hired men with their sharp pitchforks who've pricked him to the heart
And the loader he has served him worse than that
For he's bound him to the cart

They've wheeled him around and around a field 'til they came onto a pond
And there they made a solemn oath on poor John Barleycorn
They've hired men with their crabtree sticks to cut him skin from bone
And the miller he has served him worse than that
For he's ground him between two stones
And little Sir John and the nut brown bowl and his brandy in the glass
And little Sir John and the nut brown bowl proved the strongest man at last
The huntsman he can't hunt the fox nor so loudly to blow his horn
The Book
It all came to me one election day. It was on a warm California afternoon, and I had ridden down into the Valley of the Moon from the ranch to the little village to vote Yes and No to a host of proposed amendments to the Constitution of the State of California. Because of the warmth of the day I had had several drinks before casting my ballot, and divers drinks after casting it. Then I had ridden up through the vine-clad hills and rolling pastures of the ranch, and arrived at the farm-house in time for another drink and supper.
"How did you vote on the suffrage amendment?" Charmian asked.
"I voted for it."
Great opening line! What a patriot!
Jack London is better known as the successful and popular author of adventure stories such as White Fang, and The Call of the Wild than as an alcoholic pessimist who finally took a fatal overdose of morphine in 1916. John Barleycorn, published in 1913, subtitled "Alcoholic Memoirs," eventually shattered the image of the ruggedly good-looking, energetic and intrepid hero who had been everywhere and seen everything. With his style at its most personal as he explores his own mental states, London achieves a painful kind of autobiography that cuts through the thin skin of his self-esteem.
The Album
Traffic's third studio album is also its third best, ranking below the band's superb second record (1968's Traffic) and its psychedelic debut (1968's Mr. Fantasy). The depth of those albums came from having two superior songwriters, Steve Winwood and Dave Mason; by John Barleycorn, Winwood was leading a trio that included Chris Wood on horns and Jim Capaldi on drums. Winwood now supplied guitar as well as keyboards, and songs such as "Glad" and "Freedom Rider" reflected the trio's fondness for instrumental jams. But the 1970 album is remembered most for the title tune, a traditional folk song blessed with one of the finest vocals of Winwood's long career. --John Milward