Events
2017 Events:
30 APR 2017: Military Visit Day Happy Hour @ Murphy's 8:00 p.m.
01 MAY 2017: Military Visit Day
13 MAY 2017: Tuck Runs for Veterans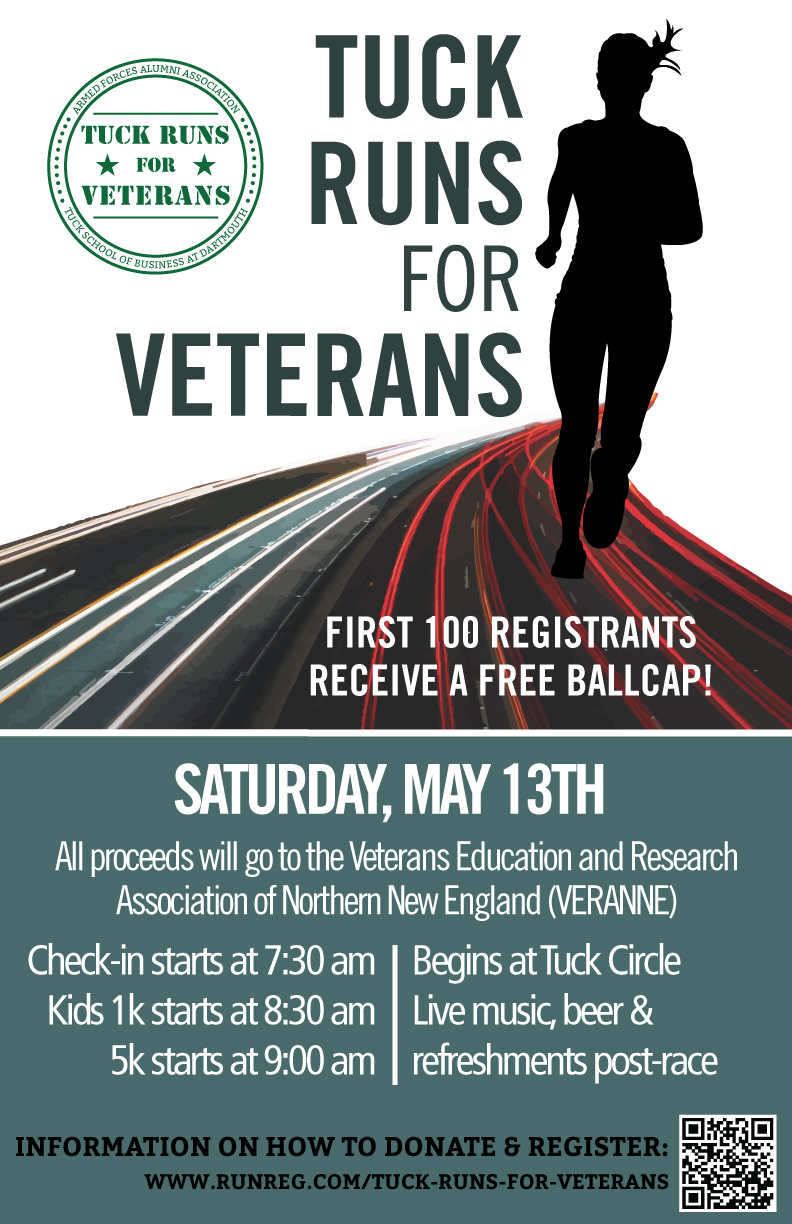 WHO: The Tuck Armed Forces Alumni Association and The Tuck Athletic Club and Veterans Education and Research Association of Northern New England (VERANNE) have partnered to host this annual 5k race! VERANNE is a White River Junction-based nonprofit that works to advance state-of-the-art healthcare for Veterans through the support of research and education programs at the VA Medical Centers in White River Junction, VT and Manchester, NH, as well as the VA Central Western Massachusetts Healthcare System in Leeds, MA and the VA Maine Healthcare System in Augusta, ME. All proceeds will to go to helping VERANNE puchase a van to transport veterans to appointments and events around the Upper Valley and surrounding area.
WHAT: This fun-filled event featuring a 5K walk/run and a live band at the start/finish.
WHEN: The kids 1k race starts at 8:30 a.m. on Saturday May 13th, the 5k starts at 9:00 a.m. -- There will be an 10:30 a.m. ceremony to conclude the event.
WHERE: The starting/finish line is right at Tuck Circle, or you can map to 100 Tuck Mall, Hanover NH 03755
Registration will close on May 11th, but race day registration will be available on race day at Tuck for $35.
More about our partner, VERANNE:
VERANNE was established in 1989 and is registered in the State of Vermont as a non-profit 501(c)(3) corporation. It is part of a network of VA Non-Profit Corporations enabled under PL 100-322, which was passed in 1988 to provide a more efficient mechanism for private and non-VA public funding of VA research and education. VERANNE is dedicated to supporting research and education programs that benefit current and retired members of the U.S. Armed Forces. Projects supported by VERANNE include clinical trials of new drug treatments, laboratory studies of chronic and infectious diseases, continuing education for Veterans Administration Medical Center staff, and hands-on Veteran education in therapeutic sports and arts.
Thank you for supporting the Upper Valley veteran community!